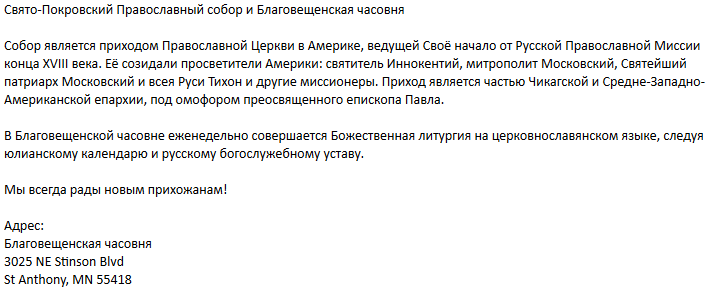 Дорогие прихожане!
Прилагается расписание служб.
Пожалуйста отнеситесь с пониманием. Расписание может измениться в связи с планируемым ремонтом подвального помещения часовни.
Сроки пока не определены.
Изменения будем сообщать сразу, как только у нас появиться новая информация.
NO SERVICE Sun 5/13/2018
Ascension Liturgy Fr. Paul Annunciation chapel Thurs 5/17/2018 10:15 AM CANCELED due to construction
St. Nicholas Liturgy Fr. Andrew Annunciation chapel Tues 5/22/2018 8:30 AM, hours at 8AM
Все богослужения указанные в данном расписании совершаются на
церковнославянском языке.
Cathedral of the Holy Protection and Annunciation Chapel
The Cathedral is a parish of the Orthodox Church in America, which has its roots in the Russian Orthodox Mission at the end of the 18th century. The enlighteners of America formed the mission: St. Innocent, Metropolitan of Moscow; Patriarch Tikhon of Moscow and All Russia, and other missionaries. The parish is a part of the Midwest Diocese under the omophorion of Bishop Paul of Chicago.
Divine Liturgy is served weekly in Church Slavonic following the Julian Calendar and the Russian typikon.
We always welcome new parishioners!
Address: